The Simulation of the European Parliament (SIMEP) was launched in 1999 by JEF-BB and has been organised every year since then with great success. Since 2009, the SIMEP has taken place twice a year.
---
SAVE THE DATE: Die Simep 2023 ist zurück!!!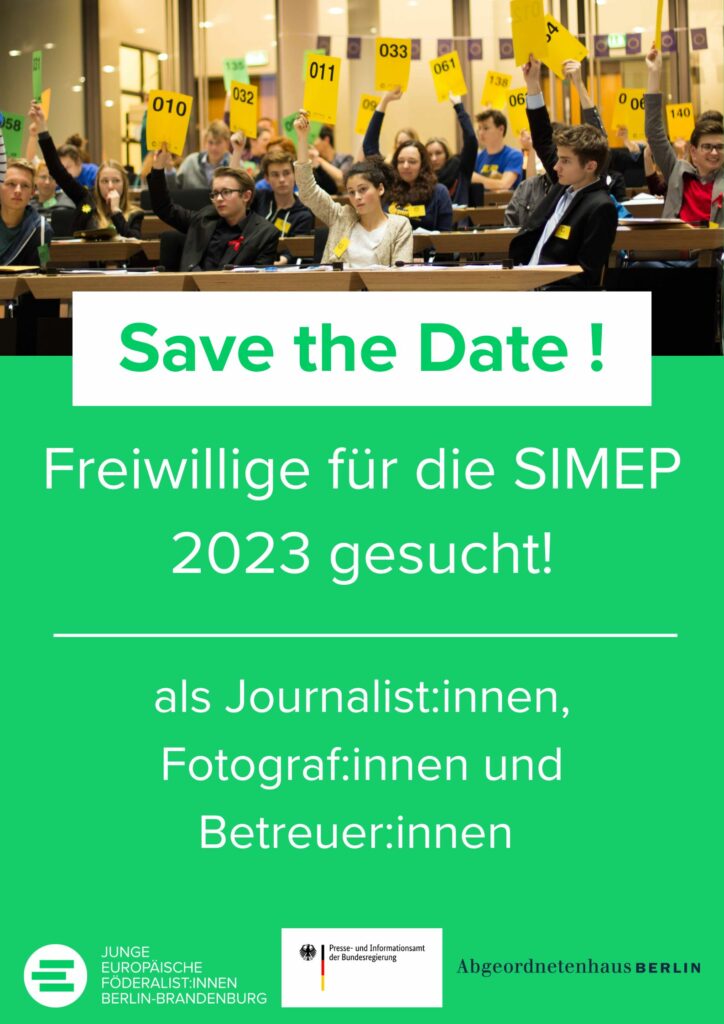 Endlich ist es wieder soweit! Nach langer Coronapause kann die 23. Simulation Europäisches Parlament (SIMEP)  dieses Jahr wieder in Berlin stattfinden. 
Bei diesem Simulationsspiel im Berliner Abgeordnetenhaus schlüpfen ca. 300 Jugendliche der Klassenstufen 10 bis 13 für drei Tage in die Rollen von Europaabgeordneten. Die Schüler:innen erleben europäische Politik hautnah und werden dabei von professionellen Abgeordneten des Europäischen Parlaments, des Deutschen Bundestags und des Berliner Abgeordnetenhauses sowie von ca. 100 Betreuer:innen und Ehrenamtlichen der Jungen Europäischen Föderalist:innen e.V. unterstützt.
Um die SIMEP auch dieses Mal wieder zu einem vollen Erfolg zu machen, brauchen wir Eure Hilfe. Engagiert Euch als Freiwillige bei der nächsten SIMEP und helft den Schüler:innen, europäische Politik interaktiv kennenzulernen. Ihr könnt das Event journalistisch als Reporter:in begleiten, die Debatten in den Ausschüssen moderieren oder Euch um die Eventtechnik im Abgeordnetenhaus kümmern.
Dieses Jahr organisieren wir zwei Simulationen zu den Themen "Demokratie in der EU" sowie "Europäische Außen- und Sicherheitspolitik", die an folgenden Terminen in Berlin stattfinden:
1. SIMEP am 14. Oktober 2023
2. SIMEP am 24. & 25. November 2023
Bitte beachtet, dass die SIMEP im Oktober nur einen Tag lang ist; im November aber über zwei Tage geht. Für Eure Unterstützung vor Ort stellen wir Euch nach der SIMEP ein Freiwilligenzertifikat für Euren Lebenslauf aus. Reise- und Übernachtungskosten müsst Ihr selbst tragen. Bei Interesse könnt Ihr Euch unter folgendem Link für den SIMEP-Newsletter eintragen und erhaltet weitere Infos: https://forms.gle/W1wbV8kDF55iiuWb8
Bei Rückfragen meldet Euch gern bei uns per E-Mail unter simep@jef-bb.de oder auf Social Media @jef_berlin_brandenburg (Instagram), @JEF Berlin-Brandenburg (facebook) oder @JEF_bb (twitter) . 
Genießt den Sommer und schöne Grüße
Lovina Okonkwo
---
Die JEF-BB bietet mit diesem Simulationsspiel insgesamt über 400 interessierten Schülerinnen und Schülern die einzigartige Gelegenheit, europäische Politik und parlamentarische Abläufe in der Praxis hautnah zu erleben. Für ihr Engagement für ein besseres gegenseitiges Verständnis und eine vertiefte Integration in Europa hat die JEB den Europäischen Bürgerpreis 2013 erhalten.
Under an annually changing motto, the participants slip into the role of MEPs for two days and discuss current and controversial European policy issues in parliamentary groups, committees and in plenary.

With the help of SIMEP, the pupils experience for themselves how European policy actually works and how much expertise, art of argumentation and ability to compromise are required.

Every year, the German Bundestag and the Berlin House of Representatives form the stages of this unique event and are also the setting for passionate discussions and European political enthusiasm.
Click here for the SIMEP website:
www.simep.eu